Events
New books on Cappiello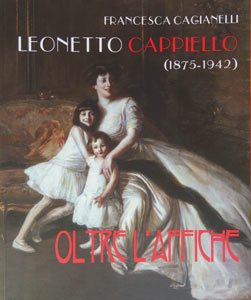 Leonetto Cappiello (1875 – 1942) Oltre L'Affiche
by Francesca Cagianelli
This book is a monograph on the Cappiello's work. All facets presented in this website are largely developed, supported by a substantial desk research, illustrated with numerous photographs.
This book is available in Italian only.
To buy it : http://www.libreriauniversitaria.it/leonetto-cappiello-1875-1942-oltre/libro/9788865291306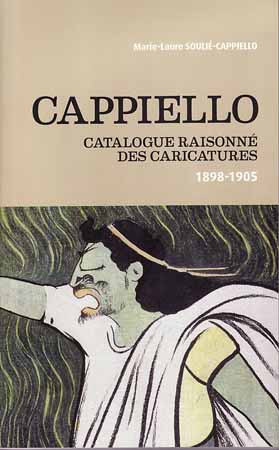 CAPPIELLO :  Catalog raisonne of caricatures 1898 – 1905
by Marie-Laure Soulié-Cappiello
This book is an inventory of caricatures by Cappiello published in the press between 1898 and 1905. Each caricature has a corresponding summary card indicating the circumstances in which it was created, its bibliography, the exhibitions where it was presented and complementary information. It is only available in French.
To obtain more information about this book or simply to buy it, contact: cappielloml@gmail.com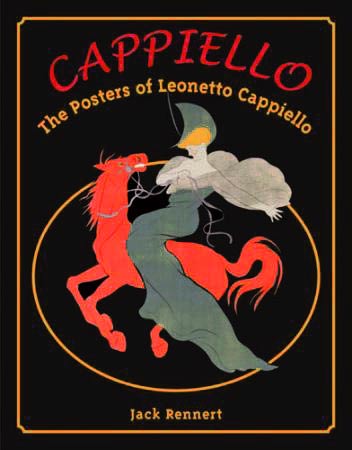 CAPPIELLO : The Posters of Leonetto Cappiello
by Jack Rennert
This beautiful book of 330 full-color pages assembles over 500 of Cappiello's posters. Each poster comes with around ten lines explaining a particular characteristic of the poster, an anecdote, the story of the product… This book is available in English only.
To obtain more information about this book or simply to buy it, contact: http://www.postersplease.com/
Catalog raisonne of posters
We are currently writing the catalog raisonne of Cappiello's posters. It is published on Internet at : catalogue.cappiello.fr. We collect the maximum photographs of preparatory drawings, sketches, maquettes, posters that have been published or not. If you have an original work, unprinted, you would help us a lot by sending us a picture to contact@cappiello.fr. Thank you in advence.
A new poster museum
Just opened in May 2017 in Treviso (Italy), the National Collection Museum Salce. This museum has a considerable collection of antic posters.
The Museum of Modern and Contemporary Art of Saint-Etienne Métropole has selected the "Bouillon Kub" poster as a communication medium for the exhibition: "Coup de pub: graphics and advertising in France in the 1930s", to be held from March 30 to September 22, 2019.
At MATOU, the Poster Museum of Toulouse, the exhibition "Cappiello, posterist" will be held from May 7, 2019 to January 5, 2020. It presents about 50 posters of the master.
June 23th, 2019
Poster Auctions International, Inc. in New York
| | | |
| --- | --- | --- |
| Lot N° | Title | Condition |
| | Posters: | |
| 47 | Automobiles Charron (125 x 196 cm) | B+ |
| 207 | Nuyens's Menthe (98 x 140 cm) | |
| 208 | Folies Bergère / Spectacle varié (118 x 159 cm) | |
| 209 | Pur Champagne (70 x 98 cm) | |
| 210 | Amandines de Provence / Biscuits H. Lalo (96 x 135 cm) | |
| 211 | Grande Kermesse de Charité (100 x 139 cm) | |
| 212 | Polaire dans le P'tit Jeune Homme (99 x 140 cm) | B+ |
| 213 | Biscotines Union (99 x 137 cm) | |
| 214 | Cognac Pellisson (118 x 160 cm) | |
| 215 | Triple-Sec Fournier (118 x 159 cm) | |
| 216 | Le Thermogène – Dehon (78 x 119 cm) | |
| 217 | Cigarettes Job (129 x 200 cm) | |
| 218 | Savon Hercule (115 x 158 cm) | |
| 221 | Bitter Campari 1921 (68 x 98 cm) | |
| 222 | Bitter Campari 1921 (50 x 70 cm) | |
| 223 | Contratto 1922 (100 x 140 cm) | |
| 224 | Cognac Monnet (127 x 198 cm) | |
| 226 | | |
| 227 | Bal des Petits Lits Blancs (118 x 161 cm) | |
| | Maquettes : | |
| 219 | Debout les Morts 1916 (41 x 26 cm), encadré | |
| 220 | Scène d'hopital avec M. de Féraudy et M.T. Piérat 1916 ca. (41 x 25 cm), encadré | |
| | Book : | |
| 225 | Fête de l'Elégance Parisienne (24 x 32 cm) | |
Viewing : June 7 to 22, (Daily 11 am – 6 pm)
Auction: June 23 at 11 am
Auction by Internet or by phone (212) 787-4000
Rennert's Gallery 26W 17th St (Btwn 5th & 6th Ave.) New York, NY 10011
Enregistrer
Enregistrer
Enregistrer
Enregistrer
Enregistrer
Enregistrer