Events
New books on Cappiello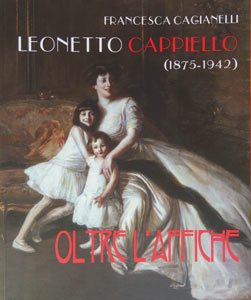 Leonetto Cappiello (1875 – 1942) Oltre L'Affiche
by Francesca Cagianelli
This book is a monograph on the Cappiello's work. All facets presented in this website are largely developed, supported by a substantial desk research, illustrated with numerous photographs.
This book is available in Italian only.
To buy it : http://www.libreriauniversitaria.it/leonetto-cappiello-1875-1942-oltre/libro/9788865291306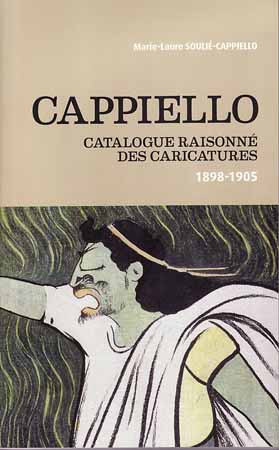 CAPPIELLO :  Catalog raisonne of caricatures 1898 – 1905
by Marie-Laure Soulié-Cappiello
This book is an inventory of caricatures by Cappiello published in the press between 1898 and 1905. Each caricature has a corresponding summary card indicating the circumstances in which it was created, its bibliography, the exhibitions where it was presented and complementary information. It is only available in French.
To obtain more information about this book or simply to buy it, contact: cappielloml@gmail.com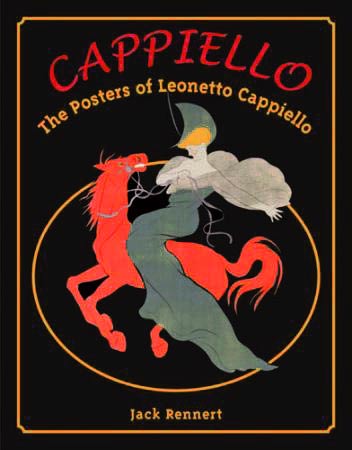 CAPPIELLO : The Posters of Leonetto Cappiello
by Jack Rennert
This beautiful book of 330 full-color pages assembles over 500 of Cappiello's posters. Each poster comes with around ten lines explaining a particular characteristic of the poster, an anecdote, the story of the product… This book is available in English only.
To obtain more information about this book or simply to buy it, contact: http://www.postersplease.com/

CAPPIELLO ou l'art publicitaire
Under the direction of Sylvie Vincent
This work, rich in a remarkable selection of posters, drawings and preparatory models, intends to approach as closely as possible the creative process of the artist, analyzing his techniques and his sources of inspiration.
144 pages, Édition Libel. Lyon
Leonetto CAPPIELLO L'Affiche et la Parfumerie
Under the direction of Grégory Couderc
Feminine beauty, perfumes and cosmetics seen by the artist in a 64-page book published by Editions Faton – Dijon
Catalog raisonne of posters
We are currently writing the catalog raisonne of Cappiello's posters. It is published on Internet at : catalogue.cappiello.fr. We collect the maximum photographs of preparatory drawings, sketches, maquettes, posters that have been published or not. If you have an original work, unprinted, you would help us a lot by sending us a picture to contact@cappiello.fr. Thank you in advence.
Miscillaneous
In May 2023, the Italian Post published  a stamp representing the poster for CIRIO as part of its new series on Italian historical brands.