Decorations
Cappiello could not be an 'exterior decorator' with his posters adorning the street walls, without also being an interior decorator.
He decorated many rooms in apartments and town houses in the Paris area with tapestries and decorative panels on walls and ceilings. His attention to detail sometimes forced him to go as far as designing the furniture as well. In all these projects, we recognize Cappiello's extraordinary and enchanting world. A world with movement and colors which, despite being softer than those of his posters, are always bright and cheerful.
He starts off his career as an interior decorator in 1907 with L. Louis Dreyfus's dining room in Saint-Germain-en-Laye. He creates panels inspired by art from the 18th century.
Decorative panels from a dining room in a town house
Decorating the Galeries Lafayette in Paris
In 1912 he decorates the Galeries Lafayette's tea room, reading room and smoking lounge. He defines the entire layout: the color of the walls, the furniture, the stained-glass windows, the lighting, the carpets and the uniform of the waitresses. He also draws four large panels representing the four seasons and four different moments of the day. Louis Vauxcelles wrote in Gil Blas on October 5th, 1912:
'The Tea Room is cheerful, bright and luminous. With stained-glass windows where, among pink clouds run vines, where fruits, wisteria and oranges intertwine into pretty ornamental whims; pedestal tables and seats in bright shades, carpets, lighting and furniture, everything is arranged in order to contribute to the joy of our senses; there is the sweetest little bandstand where musicians play languorous or wild waltzes. Cappiello thought of absolutely everything, even the tea-girls' uniform (a grey sheath with apparent black slip, a hennin crown made of starched linen). Then here you have the Reading Hall, a feast of harmonies, daring and original yet relaxing, soft blue, gold and mauve; on the walls, panels made by a master of shades and shapes, spiritual nymphs, diaphanously draped; armchairs upholstered in pale mauve satin, a beautiful carpet, bold chandeliers where the electricity will erupt in the dazzling crystal… An impression of discrete wealth, perfect taste, precious education, which will guide visitors without rushing them. Finally, the Smoking Room, more severe, with its deep and warm dark purple tone, with comfortable armchairs and a magnificent glass-window, where crimson, lemon, indigo macaws seem to cry out color, alone is worth a visit to the third floor of the 'Galeries'. It is a masterpiece.'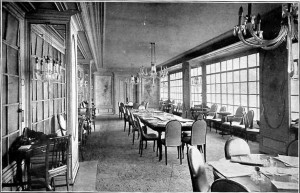 The reading room of the Galeries Lafayette in Paris (1912)
Decorating a grocery store
After the First World War he goes back to decorating apartments and town houses. In 1920, he decorates a ceiling for Baron Robert de Rothschild. The same year, a grocery store opens 20 rue Jean Goujon in Paris, entirely decorated by Cappiello. Thanks to that, all of Paris goes to visit it and inevitably, to buy there also. Jean-Louis Vaudoyer, in Les Echos de Paris of August 13th, 1920, writes:
Cappiello 'created a background for tinned cans, tea packets, bottles of red and white wine, and he had the shelves, the counter and the cash desk covered in a beautiful and intense coat of crimson oil paint. On this warm and intense background, the labels of tinned lobster and green peas, the silver paper, and the blue-indigo paper of the bags and packages stand out like enamels; the wines and liquors shine like precious stones; – and, at the top runs a large frieze, where, on a background of the same scarlet type of tone, Cappiello threw in a string of characters and attributes, who are laughing, dancing, flying, resplendent in the brightest, most cheerful colors. These are the spice fairies, the queen of chili peppers, the princess of cloves, and the sour and petulant sovereign of pickles. These are the roses and appetizing muses of sweets, surrounding, like a little Pegasus, a marzipan horse. This is the fat Chinese man who inadvertently drops a squadron of tea boxes from his green dress; this is Diane's companion, with the pheasant and the hare, and other more urban nymphs, with sprays and powder puffs; these are Bacchantes carrying wine grapes to the press house, and beautiful young gardeners collecting fruit to make compotes and jams. Cappiello has created a witty, tasteful and cheerful masterpiece here.'
Other decorations
In 1922, he exhibits two decorative panels at the Venice Biennial: 'Fruits and vegetables', in addition to his posters.
In 1935, he creates a huge fresco for the bar of the restaurant Dupont, boulevard Barbès in Paris: 22m long and 3m tall. The theme is Montmartre or 'Party in Paris': the circus, French cancan, music, love, good food. In 1937, he is asked to decorate the Pavillon de la Publicité (Publicity Pavilion) at the International Exhibition of Paris. On this occasion he creates a very large decorative panel: '
The Driving Force'
: rearing horses coming out of the pistons of an engine symbolizing industrial power. But this list would not be complete if we forgot: – tapestry sketches such as
'
Parrots'
, '
Flowers and birds'
for the Manufacture Nationale de Beauvais which will equip seats and screens, – ballet costume and decor projects for Sacha Guitry and Leonide Massine (1928 – 1932).
Jacques Viénot said: 'Cappiello is a decorator in the fullest sense of the word: clever, ingenious, with the gift of staging and presentation, he possesses a love and understanding of the world of show business and parties. He is able to design and make the most spectacular decors as well as taking care of costumes down to the last detail.'
Today there are only a few decorations and decoration projects left. The buildings where Cappiello worked have all been destroyed. Only the fresco in the Dupont restaurant in Barbès escaped from demolition. It is waiting for a new home in New York.